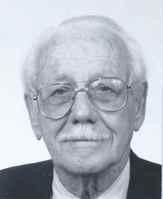 Dr. Paul Woodrow Brown passed away at his home with his son at his side on May 4, 2014. Born on December 28, 1919 in New York City, he was 94 years old and resided in Fairfield, CT. Up until his death, Paul was an avid and voracious reader of non-fiction and military history and a lover of good wines and his dry martini. He enjoyed sharing time and lively discussions with his neighbors, friends and family and derived great pleasure from his cats, his lovely property, the visiting wildlife and his family. Both he and his late wife, Patti, loved animals and were strong supporters of the Audubon Society and other animal charities.
Dr. Brown graduated from the University of Michigan, Ann Arbor, MI in 1942 with a B.S. degree, and then was immediately inducted into the U.S. Army during WWII. After serving in the war from 1942-1945 as an infantryman, stevedore and medic in North Africa, Sicily and Italy, Dr. Brown returned to the University of Michigan for Medical School, where he married his sweetheart, Elizabeth Jameson. He received his M.D. in 1950 and re-enlisted in the U.S. Army's Medical Corps, completing his internship and orthopaedic residency at Letterman General Hospital and Shriners' Hospital for Crippled Children in San Francisco, CA. In 1956, Dr. Brown was sent as a Major to the U.S. Army Hospital in Zama, Japan to tend to wounded GIs during the Korean War. Dr. Brown became certified by the American Board of Orthopaedic Surgery in 1958. The Army transferred Dr. Brown and his family to Sandia Base, Albuquerque, NM, where he served as Chief of Surgery & Orthopaedics from 1959-1962. His promotion to Lt. Colonel lead to a transfer to Walter Reed General Hospital in Washington, D.C., where he did his fellowship in hand surgery from 1962-1963, and then on to Frankfurt, Germany as the Chief of Hand Surgery at the 97th General Hospital from 1963-1966. Dr. Brown was promoted to full Colonel and was transferred to Denver, CO, as the Chief of Orthopedics at Fitzsimons General Hospital until his retirement from the Army in the fall of 1969.
During his time at Fitzsimons, Paul instituted the country's first skiing and horseback riding programs for the rehabilitation of amputee soldiers returning from the Vietnam war, and later was awarded the Legion of Merit for his efforts. Upon his retirement from the Army in 1969, Dr. Brown served as a Professor of Orthopaedic Surgery and as Chief of the Hand Surgery Division of the University of Colorado Medical Center until 1972 when he became a Professor of Orthopaedic Surgery at the University of Miami School of Medicine. In 1973, Dr. Brown was asked to be the Chairman of the Department of Surgery & Chief of the General Surgery Residency Program at St. Vincent's Medical Center in Bridgeport, CT where he served until 1982. During that time, he also was appointed to the Yale University School of Medicine in New Haven, CT, as a Clinical Professor both of Orthopaedic Surgery and Rehabilitation and of Plastic and Reconstructive Surgery. Dr. Brown was a fellow of the American College of Surgeons and the American Academy of Orthopaedic Surgeons as well as a member of numerous medical groups.
He was designated a "Pioneer in Hand Surgery" by the International Federation of Societies for Surgery of the Hand in Helsinki, Finland in 1995, and served as a consultant emeritus in Hand Surgery for the Veteran's Administration.
He is survived by his daughter, Cindy Coppola and husband, Richard, of Princeton Junction, NJ; son, Jeffrey Brown and wife, Cindy, of Carlsbad, CA; son, Clark Brown and wife, Julie, of Atlanta, GA; five grandchildren, Matthew Hull and wife, Tracey, of WA, Timothy Hull and wife, Amanda, of PA, Elizabeth Brown of CA, Grace Brown and Eve Brown of GA; and three great-grandchildren, Tallulah Green Hull, Samuel Green Hull and Nicholas Hull. He also is survived by a step-daughter, Clea Lee, and her family in Rancho Santa Margarita, CA.
The family requests that those who wish to remember Dr. Brown do so with joy and offer a toast to the wonderful memories and laughs they shared with him. Memorials in his name may be made to the CT Fairfield Audubon Society or the Alzheimer's Association. To sign his online guest register or to make a memorial contribution, please visit Lesko & Polke Funeral Home.