Welcome to the website for the Walter Reed Bethesda Orthopaedic Alumni Association.
The goal of the organization is to promote camaraderie of past and present members of Walter Reed Bethesda Orthopaedics, have an annual retreat with CME credits, publish an annual journal and promote education.
One does not have to be a "graduate" of the training programs or even have served at Walter Reed for any specified length of time in order to join. Our goal is to celebrate our history and to look to our future; anyone who shares that goal and has served with us in the past is welcome to join.
---
WRBOAA Member Reception at AAOS
 After a year of Social Distancing, we are excited to be together again in-person for a one-hour Member reception Thursday, September 2nd at the AAOS Annual Meeting in San Diego, CA.
Renew your membership today and we look forward to seeing you there!
Event Details:
September 2, 2021
Hilton Bayfront San Diego
Promenade Plaza
6pm-7pm
---
Walter Reed Session at the Pennsylvania Orthopaedic Society's Annual Meeting
WRBOAA is partnering with the Pennsylvania Orthopaedic Society to host a panel at their Annual Meeting in Hersey PA this October. More details on that session to follow.
---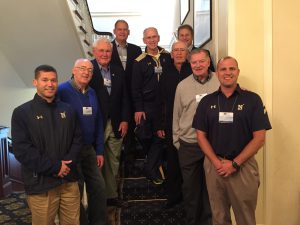 The USNA Team Physicians through the years.