Save the Date
Celebrate the graduation of the Walter Reed Orthopaedic Surgery Chief & Hand Fellow Class 0f 2023
»» Tickets are sold out | »» Make a Donation
16th of June, 2023, Friday, 5 PM
At The Hay Adams
800 16th St NW, Washington, DC 20006
www.hayadams.com/our-hotel/history
To celebrate the graduation, you are invited to attend the 2023 Banquet at The Hay-Adams, Washington D.C.
If you are unable to join us for this celebration, you can still support our program and graduating Chiefs through a donation. Any amount is greatly appreciated!
The 2023 banquet is taking place on Friday, June 16th, 2023.
Doors open at 5PM, ceremony starts at 6PM
The address of the venue is:
800 16th St NW
Washington, DC 20006
The Hay Adams website
»» Tickets are sold out | »» Make a Donation
Dress Code: Business formal
Menu includes
Starter: Petite Romaine Cesar Salad (fixed)
Entree: one of the following:

Seared Angus Filet Mignon, Sautéed Wild Mushrooms, Potato Fondant, Brussels Sprouts, Red Wine and Shallot Sauce
Organic Chicken Breast, Natural Jus, Mashed Yukon Potatoes, Leek Confit, Wild Trumpet Mushrooms, Crispy Bacon
Asparagus Risotto

Dessert: Double chocolate cheesecake (fixed)
Drinks are included
Info about transportation:
Valet at the hotel: $35/car
Parking at nearby garages:

1625 I St. NW Garage;
1450 H St. NW Garage;
other garages may be available;

Ride-sharing services (Uber, Lyft, etc)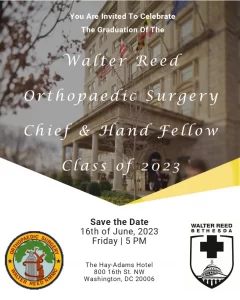 »» Tickets are sold out | »» Make a Donation